We were proud, once again, to support BAFSA's annual conference and biennial fire sprinkler exhibition, at the Marriott Forest of Arden near Birmingham, on 13th-14th November.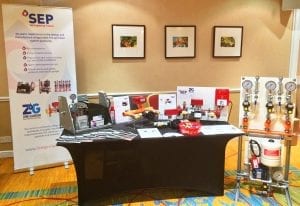 In Cardiff in 2016, we exhibited our just-launched (but at the time yet to be approved) ZONE GUARDIAN; that has since been flying off our shelves, and this year we had a working model on the stand for customers to see and play with. We were also showing our newly-launched ZG-Resi models in both CPVC and steel pipe as well as our ever popular compressors, pump initiation boards and an alarm valve booster pump. For those who came to see us, there were even some choccies on offer!
The biennial conference is a unique event in the UK's fire protection and building professionals' calendars, and endeavoured this year to address many of the questions raised by the horrific fires which have destroyed families, communities and business in the recent past. It included a full programme of intellectually entertaining, ultimately inspiring, discussions including:
Keynote speaker Terry McDermott, CEO of Derbyshire Fire Service
Martin Shipp of the Institute of Fire Engineers
Gary Howe from Zurich Risk talking about water mist
Stalwart Stewart Kidd on the missed opportunities ultimately leading to Grenfell
Debbie Smith of BRE Global talking about standards and compliance
Also skills & qualifications, fire sprinkler effectiveness and further updates on the Grenfell tragedy.
Rob Bell, our MD, even delivered a brief technical presentation on air compressors and how we meet the LPC and FM guidelines.
The exhibition gave an opportunity for all to see the latest products and innovations, as well as network and engage with others in the industry. We exhibited alongside some of our own suppliers, customers (and of course competitors) including BRE Global, Grundfos, Fire Protection Association, IPS Flow Systems, Reliable Fire Sprinklers UK and Victaulic.
The annual dinner on the evening of Tuesday 13th was as entertaining as ever!
Please check out further information, using this link to the BAFSA website: https://www.bafsa.org.uk/events/fire-sprinkler-2018-conference/